Super Amicorum | Snowdown (ended)
---
NEWS
Do you like spending time with friends? Do you like gifts? What about fun activities? Super Amicorum and Helping Hands are hosting a colab event, The Snowdown . We invite you on Friday at 4 PM (England Time, 08:00:00 Cubic Time) to join us.

FAQ:
Q: How do I get there?
A: Look up Super Amicorum then find the hot air balloon that has anchored at the docks.

Q: Do I need to be in either of the host's clans?
A: No, this event is for everyone.

Q: What do we do there?
A: Theres a bunch of activities planned. Seeker Hunt, Building Competition, Fashion Show. Oh and most importantly GIFTS!

Q: Can I just hang around?
A: If you dont feel like taking part of the activities, sure you are free to hang around and talk to people.
---
Clan Trailer: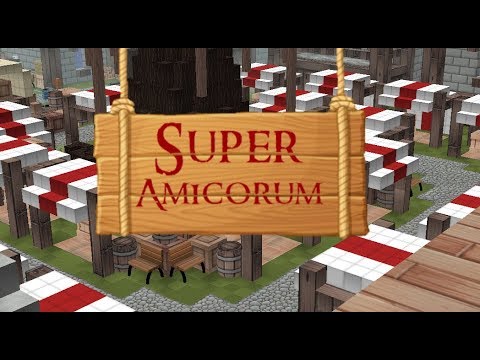 ---
Super Amicorum is a fantasy based clan, focusing on offering players a nice and entertaining experience while playing the game. You can find everything the clan offers inside the main realm. To access the realm you have to travel to overworld
and search the word "Super" (Lobby might not work)
There are some features that the clan has currently such as a cheap rental marketplace for you to sell items, a gamehouse
where you can find all our current minigames that you and your friends can have fun with, a merchant that occasionally has
random deals, some secret areas and more
You can find a bunch of information about our clan and ranking system in the library (there is a quick portal to the library at
the clan entrance right next to the tower)
There are also some mailboxes next to the post office, you can suggest us anything that you would like to see in the future
or complain about anything that could be changed
Our goal is to create a community within Cubic Castles that can enjoy the game and learn about it while socializing with
other members
Feel free to contact any of our current clan leaders to join the clan
---
Current active leaders are:
Superxtreme
BJDware
Ed
Ecklair
Space Fetus
---
Current Ranks are:
Emperor
Counselor
Officer
Member
Trial
---
Discord server
-
https://discord.gg/7NWKvEb
---
Other upcoming stuff

Doorways to other clans and player realms, more interiors and occasional
quests/questlines
We are hoping for NPCs and more clan features to be added to Cubic Castles to make questing feel better and clan
organizing much easier
This the official clan thread, here you can find all the updates. Huge thanks to everybody who helped the clan in any way