Aggeliki2000 has won the Krampus Mask! Next up, the 25 days of Cubicmas! We will be drawing a new prize every day, starting tomorrow with a Halo!
Dragon Heart has won the Scuba Mask! Next up, Cupid Halo!
The Cubic Castles Race League Contest (SIGN UP!!) 200k worth of prizes
thanks -joystick- for this cool banner and trailer!
Welcome to the Race League I look forward to the fun to come!!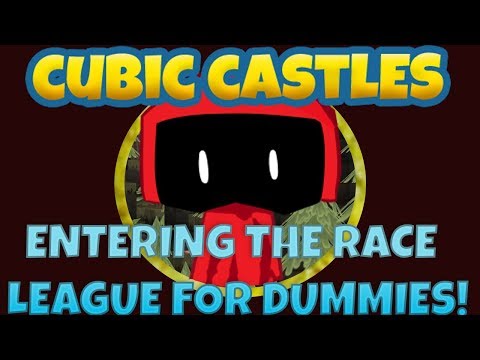 Season 1 Leader board (January - June 2018)

1 .Bluejay_1
2. Cubic Late
3. lucaaa795
4. iCantiWill
5. NoeNt
6. CanItBeDone
7. Kurt...
8. -joystick-
9. RighMaker
10. Yakroo
11. Zeroerror
12. edison123
13. Sugarcat101
14. Miwky
15. Stevenlol
16. The Death Reaper
17. MM2-2
18. OrangeTail
19. Capt. Demboy
20. halfofwatermelon
21. Cubic Game Master2
22. LopaikoStyle
23. b3achy
24. AJ BaRyza
25. MarcAngelo
26. PentaholicOne
27. AmaKaric
28. Fok
29. $uperplayz
30. Superxtreme
31. Kim24
32. MineMastered
33. *JulieSings*
34. Thanh_
35. Royale King
36. Cubefaceee
37. Flooks
38. King Edition
39. Kewbin
40. ChocoMale
41. WhimsicalFirefly
42. realise
43. *SnowyOwl*
44. epieownz
45. Sir.Pixel
46. JackFury
47. MeHawk
48. Missilence
49. himohima
50. Materialist
51. skullcandy36052
52. valley
53. pyreon
54. Tumbleweed
55. 'crow'
56. Faon
57.xomer55
58.RobinG
59.danlovespie2
60.H4RPY D3Li4lY
61.Dr Roger
62.OutdatedChicken
63.gdog
64.Giant_
65.opticeyes
66.Sir. Porto
67.YiRUMA
68.SayWhat
69.bossman6788
70.danielterry002
Graceful Thunder


Week 1 Leader board (January 1st-7th)
FAQ

How do we sign up?
To sign up simply comment on this thread stating your wish to join the race league!
When does the race league start?
the race league will start the first week of january
How long will the race league run?
the league will run for 6 months and prizes will be rewarded at the end
How long do we have to sign up?
you have until the league begins any sign ups after then will not be accepted
where do we find the league in game?
the league can be found in space_fetus's race track lobby, this will have leader boards, and current tracks
How do we race to compete?
each player will use the Go bumper to set a time, this time will be compared against everyone elses to determine the rankings on the leaderboard
How do we submit a time?
times are submitted by posting a screenshot in this thread of your finish time.
Can we submit more than 1 time per week?
you may try and submit as many times as you like, but if you have already submitted once this week please edit your time instead of posting again
When is the cut off point each week?
all times must be submitted before the following Monday, each Monday the previous weeks leader boards are updated and a new track is announced which can be found in the league section of space_fetus's racetrack lobby!
How does the leader boards work?
there are two leader boards, one shows who did the best per week and the other shows overall scores for the 6 month season
How do the points work?
the points will be based on how many players enter the league, obviously the higher you come in the rankings each week the more points you will earn!
Can i make a track for the race league?
yes i just need permissions in the room/realm and a door to place in the league :) (see video)
What are the prizes?
1st is 100k 2nd is 50k 3rd is 25k and some hats and stuff for a few other high placing players
Will this run for more than 1 season?
if people really enjoy it then i hope to run it for many seasons!